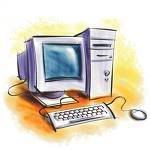 Vorys Previously Owned Computers Now Available for Purchase!
You've called about it….. You've emailed about …. Now it is here! Purchase equipment previously owned by the firm from Microman. All of these computers have been scrubbed clean of data, and have been equipped with a clean copy of the Windows XP Professional operating system. They have a 30 day exchange warranty.
Package Options:
· Used Firm desktop – HP Compaq D530 512 MB RAM (processor is a Pentium 4, speeds vary, hard drive is at least 20GB in size) includes generic keyboard, mouse, CD/DVD ROM drive and Windows XP. Price - $95
· Upgrade option 1 - HP factory refurbished wide screen 19" displays with a one year warranty -Price + $118
· Other display options are available.
· Upgrade option 2 – Upgrade machine to RAM to 1.5 – Price + $45
· (Large quantity available, offer is extended to Vorys staff, families and friends).